Kuroki Akitas
Here at KuroKi Akitas we like to keep the total dog in mind when breeding. We currently have Agility and Obedience titles on some of our offspring and we are very proud of that fact. We also give rebates for working titles earned..
---
ACA NATIONAL ORDER FORMS ARE HERE!
---
AKIHO TAISHO/JKC BISS CH. HISHO TENZAN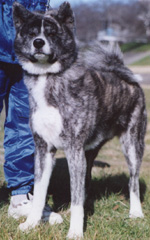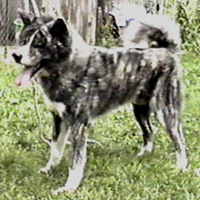 This is the newest male that will be living with us thanks to Mr Okukawa! The first picture is of him going BOB at a JKC show . He is due to arrive some time this month! We are SO excited! This will be the first Akiho Taisho/JKC BISS Ch Akita to EVER come to the USA, and he is a brindle to boot! Look for newer pics of this guy when he arrives .

"Ori"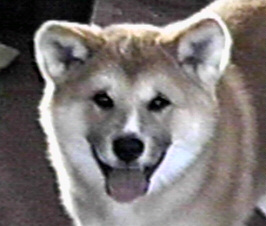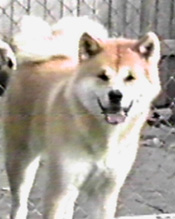 Ori Hime Go. As she gets older her mask will fade to a white... If you are wondering if she is as sweet as she looks then the answer to that question is YES! The second picture is of Ori at 1 year of age... The black is all gone! So is her hair! She is totally out of coat but you can still see that she has bone and body. I will put more pictures of Ori up when she gets a little more hair :)

I have a page devoted to just Ori and Mari..... wanna see it ?


OUR NEWEST ADDITION!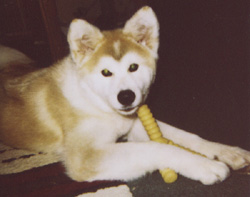 MARI!!!! This is a picture taken with a Polaroid camera so her eyes look like demon eyes :) but it is a cute shot :)
Another Mari picture!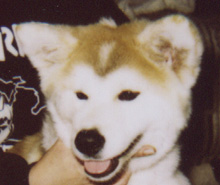 A close up of Mari's head.. Isn't she too cute ? She was a gift from Mr. Okukawa in Japan. Thank you Mr. Okukawa!!!!!!!

"Worf"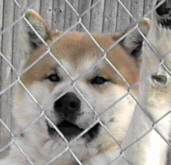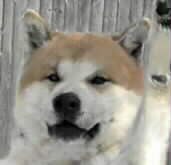 Q , Rhythm, Bubba and Dusty's Sire is Worf or Kuroki's The Next Generation he has Import parents. .. And this is Worf minus the fence.. Sheila Avalos's children worked hard on this!
---
We have been successfully combining the Japanese "Import" stock Akita with the American Stock Akita in hopes of getting sound minds as well as bodies.
Here are a few examples of what we have been doing with our Akitas:

"Q"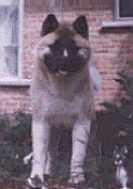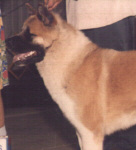 This is a picture of Kuroki's Sleek and Uni"Q"ue at 10 months of age .. This is his newest pic.. I made it smaller than I wanted ... sorry! His call name is "Q". He was last shown in Ohio he currently has 11 points. His Sire is Kuroki The Next Generation ( Worf) and is all import stock his dam is Kuroki's Red Hot Fury ( Fury) and is of all American Stock.
---
"R" Just got her NA title! ( Novice Agility)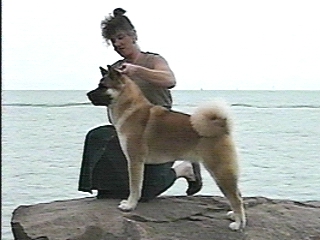 This picture is of "Q"'s Litter mate sister "Rhythm". UAG1,UKC CH.Kuroki's Rhythm's Gonna Getcha NA CGC (OFA GOOD) At the last year's Nationals she took 2nd place in the ACA Sweepstakes and a 2nd in Futurity ( First place went on to be The Grand Futurity Winner. This year she took Best Op Sex to the Grand Maturity Winner . She now has 12 points including a 5 point major in AKC and is a UKC Champion.... She is owned by a wenchy woman named Laurie. Want to see more pics of "R" ? I also have a picture of Laurie's new boyfriend... Want to see him too ? He is on "R''s page also... And you'll have to talk to Laurie about stud rights on this one! I think he may not be at public stud!

"R" IS BEING BRED THIS SUMMER TO "SHERE KHAN"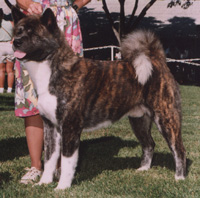 "R" Is being bred to AM/CAN CH. Northlands Shere Khan ( OFA EX), another good looking "tweenie" They are expecting brilliant colors, good temperaments, beautiful TYPE, TYPE, TYPE, and an all around "WORKING" dog. So watch for puppy pictures sometime this summer! Laurie Peifer is taking reservations on this wonderful litter ... So if brains and beauty are what your looking for... Then look no further ! Call Laurie at 1-414-325-6649 or e-mail her at shobo@execpc.com
---

"Bubba"

This is John Porters Bubba... "Kuroki's Benjamin B Blue CGC " He is a Brother to R and Q . ( Our nicknames for the first 2 dogs on this page) Bubba is busy doing obedience work He now has 2 legs towards his CD... He is going to make Momma proud in areas other than "Show"

"DUSTY"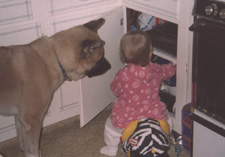 I could have shown ya a bigger picture of just Dusty... I could have shown you a better head shot of Dusty... But for some reason I think Dusty wanted me to show you this picture of how he talks his youngest admirer into getting those doggy treats out of the cupboard :)


---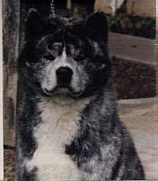 This picture is of an import named TORA. Tora is owned by Ben Herrera and co-owned by Frank Sakayeda in California, he is a black and silver brindle. I feel he has one of the best head types here in the US ! His last show was at the L.A. Akiho Branch and he took a Gold Award. Tora is not at public stud .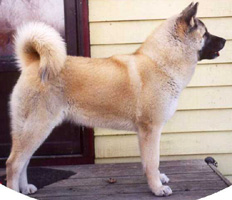 A Tora offspring that I bred and co-own her name is "KuroKi's I write the Songs" and her call name is Song. She is the sweetest Akita I have ever met! She will be bred to Hisho Tenzan this summer. That litter is NOW HERE! Want to see some pics of the pups ?

---
We are members of the following dog clubs :Akita Club of America, Wolverine Akita Club, and the Monroe County Kennel Club.


---
If you would like to contact us by Fax that number is 1.313.291.5512
If you have comments or suggestions, email me at kuroki@plugnplay.com
This page created with Netscape Navigator Gold